Cave Run Lake Kentucky Muskie Fishing Guides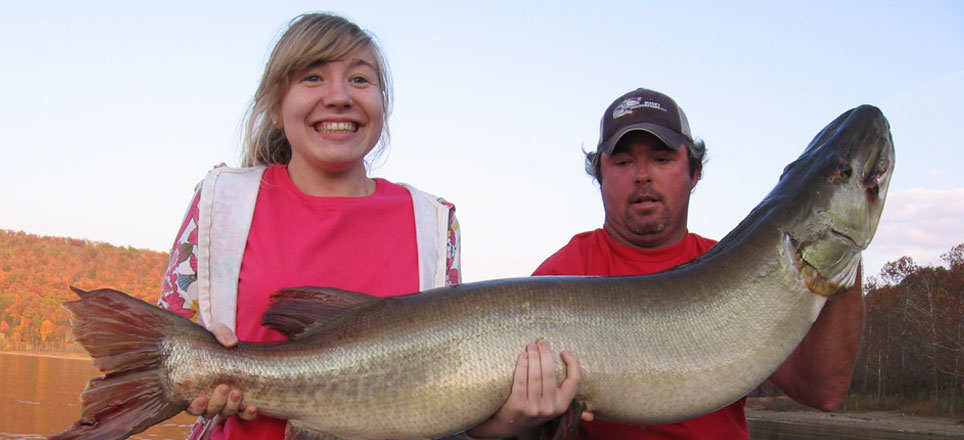 WHAT YOU CAN EXPECT…
Our guide staff is made up of dedicated professionals working together, combining their knowledge and experience to give our customers exceptional quality every day on the water. From lodging to tackle Kentucky Mountain Muskies will do everything we can to give you a lifetime of memories.
When you book a trip with Cave Run Muskie Guide Service you can expect complete satisfaction. From the moment you contact the guide service we will make your vacation as enjoyable as possible. Our guide service has created one of the most impressive, professional muskie staffs in the world today.
Our guides have line class records, the states largest registered fish and largest number of total fish caught in a single year. These are the elements that we have used to create a guide service that keeps people returning year after year. We strive everyday to provide quality staff, boats and equipment. If you have a map feel free to bring it along. You may be spending an entire week at Cave Run, a couple of days with our professional staff and you will know when, were, why and how. During your stay we will continue to give you any information needed.
After booking your fishing adventure with us you will be directed to Mountain Muskie Lodge. Your confirmation letter and map will direct you from major intestates into the Daniel Boone National Forest and the Cave Run Lake recreation area. As you leave the interstate and head towards the foothills a stop will be required, We are in a rural area, so to fully enjoy the stay a packed cooler is necessary, this is also a dry county. There is nothing like a fresh grilled steak and a cold one among friends after an exciting day on the water with our staff, the fish stories are sure to fill the night air. Small restaurants are located in the area and a full service city is located within thirty minutes.
STARTING THE DAY…
As the sun rises you should be preparing for one of the most educational, fact filled, and fun fishing adventures you have ever been introduced to. Packing a simple lunch, snacks and drinks is a good idea. We do have coolers on the boats, but do not provide lunch or drinks. Rain gear and polarized sunglasses will also make your day more enjoyable and productive. You can end the day any time you wish but we offer you a full 8 hours on the water, sometimes more.